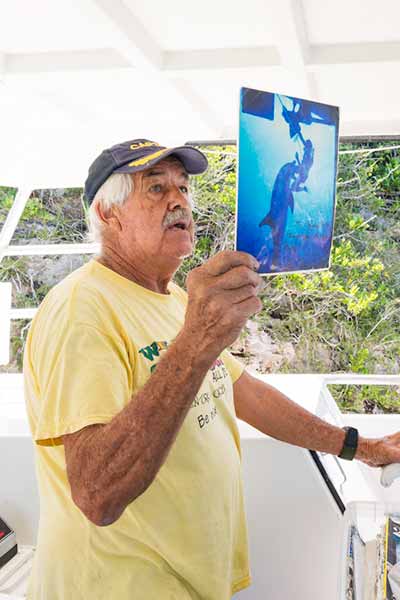 welcome
About Ocean Outback Adventures and Captain Bill
Captain Bill Rattey has been in the Turks and Caicos since the 1980s, and saw Grace Bay and Providenciales transition from an unknown and undeveloped island to the world-famous tropical destination it is today. He's swam with Jojo the Dolphin in the early days, and ran boats when Club Med was the only resort on Grace Bay. He always has a fascinating story to tell about the history and happenings of the Turks and Caicos.
Ocean Outback Adventures has operated for decades, and for good reason. The trusty, safe, and comfortable 40 foot catamaran is fun and family friendly, and the sights are spectacular. Captain Bill has been touring the incredible and remote southwest region of Providenciales long before anyone else was, and long before there were any roads out there.
Jammin' – a Fun, Stable, and Spacious Catamaran
The 40 foot Jammin' is unique, stable, has plenty of space, and is perfect for all ages. There are two decks, with the upper sun deck and lower shaded main deck, ample seating, full-size stairs on the bow, a ladder on the stern, and a toilet.
One aspect that sets Jammin' apart are the exciting water amenities, which make it a floating playground! There's sanitized snorkel gear, flotation belts, and watersports vests, a diving board, slide, trampoline, swing, and for braver souls, the Stairway to Heaven, which offers an exhilarating 20 foot drop to the turquoise water below!
A new addition for 2023 is water basketball, a fun new option where guests can compete for a trophy!
Ocean Outback Adventures picks guests up from the calm Sapodilla Bay Beach. Free parking is available close by, and the calm water at the beach allows for easy boarding.
Jammin' is rated for 40 passengers, but the Captain sets a maximum of 25, so that everyone has plenty of space and the boat never feels crowded.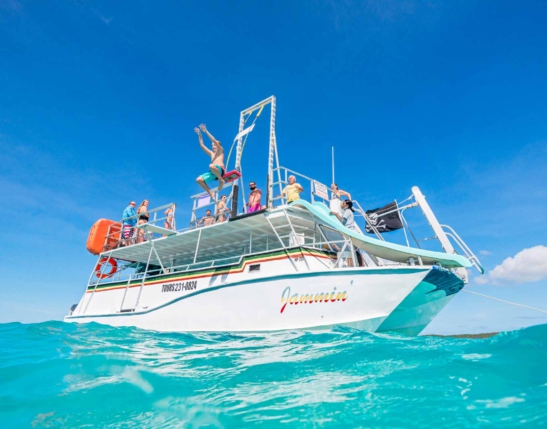 Frequently Asked Questions

We strive to make all tours as enjoyable as possible, and complimentary refreshments, rum punch, and snacks are included on all tours. Sanitized snorkel gear is also available for use.